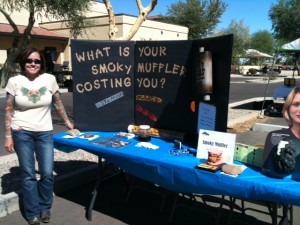 Thomas Fuller said "Health is not valued until sickness comes". This is a very true statement. Men are generally not attentive to their health and wellness. FCP was honored to be a part of an inaugural event that was sponsored by the Medical Group at Luke AFB. The event was the Luke AFB Men's Tune Up for Health Wellness and Car Show.
Historically, it has been a challenge to get men to attend wellness events. The Med Group addressed this issue by implementing the idea of hosting a golf tournament, as well as a car show. The car show brought in approximately 80 amazing automobiles for display, and the golf tournament hosted approximately 120 golfers.
The Wellness Expo hosted medical screenings, and were available as "pit stop" booths during the event such as: Test your Blinkers (vision check), Check your oil flow (blood pressure), Check engine light (cholesterol and glucose), as well as Fueling Stations (healthy food and refreshments). Men, as well as their families and guests that were Tricare eligible were invited to attend. There were approximately 700 individuals in attendance, which makes this event bigger than the Women's Wellness Event last year. More importantly, the goals that the Med Group had in place to accomplish were achieved, precisely what it was conceived to do.
Fighter Country Partnership was honored to help support this wonderful event through obtaining $11,000 in door prizes that were given away throughout the expo. It was our pleasure to have invested lots of time, resources and energy to make this inaugural men's health event a huge success. There are not many times when events exceed my expectations, but the Tune Up for Health Event did, which is AWESOME!
As I continuously say, it is a humbling experience to support the men, women, families and mission of Luke AFB, and to be able to do it in unique ways that is new to our military brings our part in this experience over the top. Spread the word.
In good health,
Ron Sites
Executive Director / President
Fighter Country Partnership
Fighter Country Foundation
Supporting the Men, Women, Families and Mission of Luke AFB